A check engine light is a malfunction indicator which will light up on your dash board when something is wrong with your car. If your car or light truck was manufactured in 1996 or later we will plug a code reader into your vehicle and retrieve the diagnostic codes for FREE.
We will tell you what the code is and provide the code definition at no charge.
At Superstition Motors Ltd we offer this service for FREE because we know some codes indicate problems as simple a tightening your gas cap. We can't see charging you for this service. (Some dealers and repair shops charge fifty to one hundred dollars!)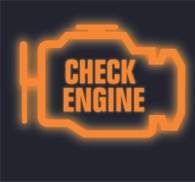 Beginning in 1996, all cars and light trucks are required to come equipped with a second generation computer readable On-Board Diagnostic system. The system standard, commonly referred to as OBDII (or OBD2), creates a common language which can be used by repair facilities to identify malfunctions.
The on-board diagnostic system is connected to an indicator lamp located near your speedometer. When something goes wrong with your engine, emission system or other vehicle components, the "check engine" light comes on.
The check engine light is a warning sign. It helps point a technician in the right direction, but does not disclose the cause of the problem. It may tell you a cylinder is misfiring, but does not tell you why. Determining why takes diagnosis. This may include inspection, tests and dis-assembly of vehicle components.
Think of it like going to the doctor. The nurse always takes your temperature and blood pressure. If either is too high or too low, something is wrong. The cause may be simple (a common cold) or more serious. In either case you need a trained professional to diagnose the cause – to determine what is wrong. Diagnosis takes time, training and experience. It may require use of diagnostic equipment worth thousands of dollars. And it may require performing tests. There is charge for those services.
If your car has a common cold – or a bad oxygen sensor – or a misfire condition we would like to get you back on the road. We have ASE Certified Master Technicians who can diagnose engine performance, electrical and a wide variety of other issues that could trigger a malfunction signal. Come see us. We are freeway close. Take the El Cajon Blvd or Main Street off ramp from Interstate 8.  Click here for directions.
For a list of OBDII codes click here.
For more information about automotive diagnostic services click here.